Chronic pain is a complex condition that affects people differently. As a result, you may not experience pain relief and other benefits from using Quell. You may return Quell within 60-days for any reason.
Smart Pain Relief Technology
Quell is a wearable device that uses transcutaneous electrical nerve stimulation (TENS) to block pain.  It is placed on your upper calf and is designed to reduce pain in that leg, foot and knee – so you can resume doing the things you enjoy.
Quell is innovative and personalized.  It is smart enough to automatically adjust therapy during the day as you go about your daily activities, overnight while you sleep, and even in response to changes in the weather.
Quell is available without a prescription and is drug and surgery free.
Discover How TENS Reduces Knee Pain
Our mission is to help people with chronic pain live their best lives
We are committed to empowering people to reclaim their lives from chronic pain and believe that technology can play a central role. We combine neurostimulation with innovative design to bring high technology, high quality pain relief solutions to people suffering from chronic pain.
By tapping into the power of the nervous system, Quell helps relieve chronic pain without the side effects of drugs or surgery.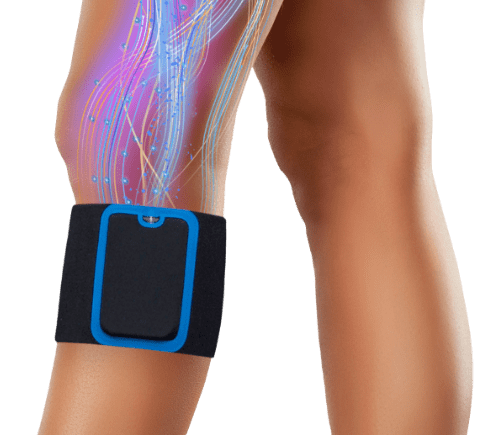 The Innovative Quell Device
Slim, rechargeable, wearable TENS
Comfortable and discreet - during the day and while sleeping
Automated, personalized pain relief with Therapy Autopilot™
Prescription strength for deep nerve stimulation
Powered by an advanced neurostimulation microchip
14 US patents
Designed and assembled in the USA
Pain Relief Enhanced by the Quell App
Makes setup and personalization easy
Notifies you of weather changes that may impact your pain
Helps you track and evaluate your pain level, activity, gait and sleep
Provides coaching to help you to reach your pain relief goals
Contribute to pain research by signing up for an optional Quell Health Cloud account
Try Quell Risk Free For 60 Days
If you are not completely satisfied, return for a full refund