Chronic pain is a complex condition that affects people differently. As a result, you may not experience pain relief and other benefits from using Quell. You may return Quell within 60-days for any reason.
The Future of Drug-Free Pain Relief
Are you one of the millions of people that suffer from chronic lower extremity pain? If so, Quell® Wearable Pain Relief technology may help you reclaim your life. Quell is the most advanced transcutaneous electrical nerve stimulation (TENS) device. It is wearable technology that is completely automated, so just place Quell on your upper calf and go about your day or go to sleep and let the prescription strength neurostimulation technology do the rest.
You can check in to see when your next therapy session is starting, customize your therapy or see how much activity and sleep you have been getting with the Quell smartphone and Apple Watch® apps. The Quell app will even alert you when the weather is likely to aggravate your pain and suggest an alternative dose for the day.  This is how pain relief technology should work.
Try Quell risk free for 60 days and join the thousands of chronic pain sufferers that have benefited from this innovative technology.  You have nothing to lose but your pain.
Risk Free Trial
Five Steps to Chronic Pain Relief
Order Quell

Delivered to your home in 2 days

Mobile app guides you through a quick setup

Start therapy

Experience pain relief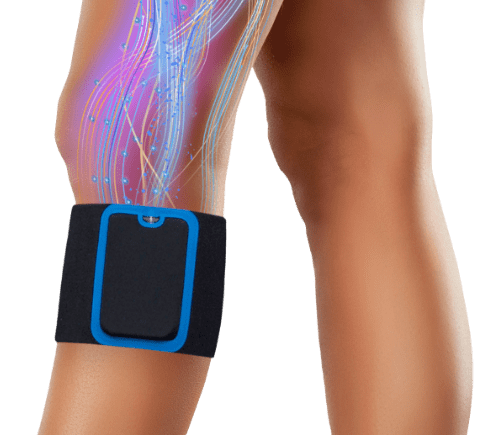 Advanced TENS Technology
High stimulation power to maximize pain relief
Therapy Autopilot™ for automated and personalized pain relief
Proprietary TENS microchip makes Quell amazingly small and thin
Rechargeable Lithium-Polymer battery provides several days of therapy on a charge
Covered by 15 US patents, more than any other TENS device
Design and assembled by NeuroMetrix, Inc. near Boston Massachusetts
Pain Relief Enhanced by the Quell App
Makes setup and personalization easy
Notifies you of weather changes that may impact your pain
Track your pain, activity, gait and sleep
Coaching to help you to reach your pain relief goals
Contribute to pain research by signing up for an optional Quell Health Cloud account
Apple Watch® App Makes Quell Even Easier And More Seamless!
Standalone app, entirely independent of your iPhone
Control Quell with the tap of your finger
Conveniently check your Quell's battery and other valuable status information
Smart notifications alert you to important events so you don't miss out on pain relief
Try Quell Risk Free For 60 Days
Use your FSA/HSA benefits
Easy financing available
2-year limited warranty, so you are covered